If you're a non-desi – all set to attend a Desi wedding than you must be overwhelmed, rather stupefied. These Desi weddings consist of so much to look forward to – and trust us it's beyond entertaining. Whether it's the gossipy phupu or rishte vali aunty – they all just add a cherry on top.
With the wedding season just around the corner, the idea of sharing these certain Gifs popped up in our head. We all love our good old Desi weddings dearly, despite the fact that they often question our mental well being by the huge amount of food, music, band baja and dancing involved in the never ending ceremonies.
The term "Desi Weddings" can be substituted by Indian or Pakistani cultural Weddings, in fact, all South Asian weddings in general fall under this category.
1. Brown people are literally obsessed with free food, what's your take on it? 
2.No matter how busy you are or how poignant the situation is – you'll always be prepared for a picture!
3. Having that Rung on your wedding, because why not? Holi hai! 
4.Accessorizing yourself. A bride is an epitome of perfection. Correct?
5. Those dance practices are a mandatory! Who wouldn't want their mehendi to rock?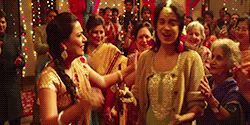 6. Those high expectations from your hubby to be but oops!
7. The over excited baraatis 8. How can we miss out that henna? 'Rung tez ho to miyan bohat mohabbat karne vala hoga' hmm, so if we don't apply mehendi our hubbies will hate us? Confusing. 
9. How can there ever be enough selfies? Okay, Ready? Set? Pout! *Snap* Tongues out! *Snap* Wink *Snap* Mehndi clad hands? *Snap* Lets point towards the bride and groom, *Snap Snap Snap*
10. At the end, it all comes down to the endless tears and the melodrama. Why can't a man ever get rukhsat and come live with the girl? Sigh*